DESERT SKIES EXECUTIVE AIR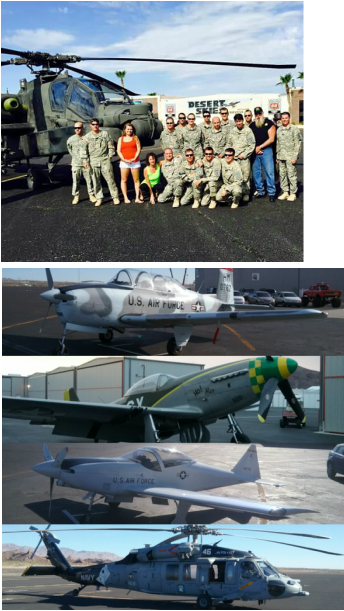 COME EXPERIENCE OUR 5-STAR FBO!!! We have over 25-years in Aviation. Come and see our Military Wall! We support our Military with top honors and WE DO HOT FUELING!!! Stop in for a fresh cup of hot coffee, cold bottled water, frozen slushies and buttery popcorn while relaxing in our lounge area.
We offer FRIENDLY CONCIERGE SERVICES for all your needs.

Services include but are not limited to:
Fueling
Getting Rental Cars
Crew Cars
LAV and GPU Services

Come in and let us take care of you!
​You can reach us at (928)-764-8000.Desert Skies Executive Air Terminal is the ONLY FBO in Lake Havasu with a GSA Government Contract!!!









Upon your FIRST visit to Desert Skies, mention this ad on our website and get .15 cents off PER GALLON!
LOWEST FUEL PRICES ON THE FIELD!
AV GAS 100LL $4.90 per gallon.
SELF SERVE AV GAS 100LL $4.75 PER GALLON
JET A $3.14 PER GALLON
PILOT ASSIST IS .10 CENTS OFF PER GALLON!
​ ASK ABOUT LARGE QUANTITY SPECIAL PRICING!DESERT SKIES WELCOMES YOU!!!
---
Welcome to beautiful Lake Havasu City, home of the famous London Bridge. The Second largest tourist attraction in the state of Arizona and voted Arizona Airport of the year for 2013 by the ADOT/MPD Aeronautics Group.

Desert Skies Executive Air is the oldest and most experienced FBO operator in Lake Havasu with over 20+ years in the business. We have over 8,000 feet of asphalt runway with a weight capacity of over 100,000 lbs. The runway is able to handle corporate jets such as a CJ1, Gulfstream G650 to a 737 BBJ and C130 military aircrafts. Special Discounts for Fuel orders over 100 Gallons on Jet A and AVGAS. We also DO NOT charge a ramp fee and have crew cars available for transportation use. The Lowest fuel prices on the field at the Friendliest FBO!
it's time for freestyle jetskis!
U.S. Freestyle PWC Championship​
flip out on may 19th - 2018!
(HERE ARE SOME HIGHLIGHTS FROM last year)
we've got AV fuel FOR ALL OF YOUR TOYS!
prices starting at $4.75 per gallon.
(ASK ABOUT EXCLUSIVE DISCOUNTS!)
SAVE UP TO $3.00 PER GALLON ON OTHER LOCAL PRICES IN TOWN! HIGH QUALITY 100 OCTANE LOW LEAD FUEL WITH 24/7 SELF SERVE FUEL PUMPS! CALL FOR DETAILS! 928-764-8000
Brought to you by River Scene Magazine
Rotors In The Desert - Choppers and Army Reception:




REVIEWS

"Dianna Fielding, general manager of Desert Skies provided impeccable customer service! An excellent & over the top experience!! They offered overnight hangar accommodations for the Meridian at no additional cost, made hotel reservations at The Nautical Beachfront Resort (a fabulous place to vacation), pulled the car up plane side, and had superb recommendations for dinning & things to do in the area. Friendly, warm, professional! I would highly recommend the team of Desert Skies to the fellow aviator!"
- Michelle Petrina, review at airnav.com